Testimonials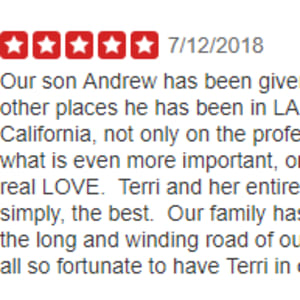 Yelp Review Lorena C
Our son has been given care that is far superior to other places he has been in LA and Orange County, California, not only on the professional, clinical side, but what is even more important, on the HUMAN SIDE, with real LOVE. Terri and her entire team at Oaks of Hope are, simply, the best. Our family has been for years living on the long and winding road of our son's recovery and we are all so fortunate to have Terri in our corner. Simply, the best.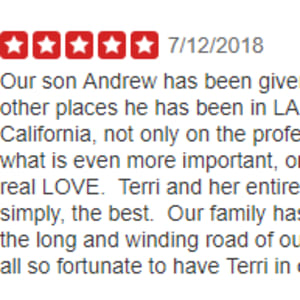 Yelp Review Kathy R
My family fell upon Oaks of Hope when my son decided to, finally, get help for Opiate and Meth addiction. My son found a place that gave him the ability to sort out what led him to a life of addiction. The staff of Oaks of Hope are beyond amazing. The facility is beautiful, a home environment, with comfortable surroundings. He felt understood, not judged, and given an opportunity to identify his triggers and manage his feelings, and find successful tools to face the world. His counselor Jamilia was my sons guardian angel, she is so incredibly skilled in connecting with people and getting them to open up, in a safe, loving, environment. We are so grateful to the entire staff of Oaks of Hope, especially Teri and Christian Gault who committed to save my son and never gave up on him.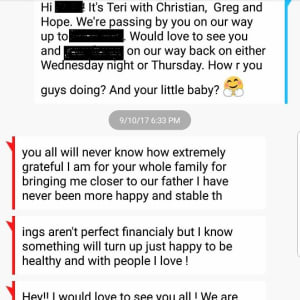 Clean After 4 Years Iv Heroin
Got to stop in for hugs at a McDonalds on a road trip passing through hometown of "4 years Heroin". As of today, 10 months sober and counting: Hey! I would love to see you all! We are doing good. I've just been looking for work and spending time with the family. I have been sober, thank the Lord. You all will never know how extremely grateful I am for your whole family For bringing me closer to our father. I have never been more happy and stable. Things aren't perfect financially, but I know something will turn up. Just happy to be healthy and with people I love!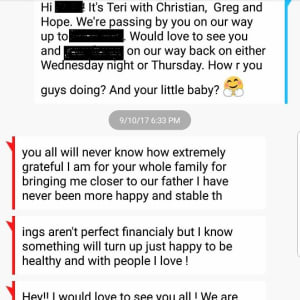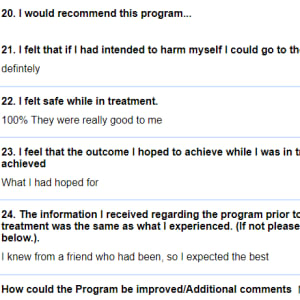 Suicidal Ideation Alcohol Benzos Heroin Meth
I would recommend this program. Excellent! I felt that if I had intended to harm myself I could go to the staff for help. Defintely. I felt safe while in treatment. 100% They were really good to me. I feel that the outcome I hoped to achieve while I was in treatment was achieved. What I had hoped for. The information I received regarding the program prior to entering treatment was the same as what I experienced. I knew from a friend who had been, so I expected the best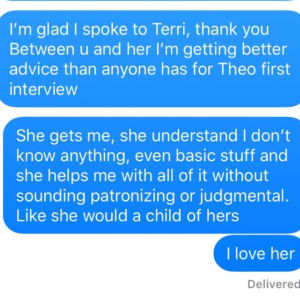 Sober From Heroin Barbiturates Job Hunt
Once completed, alumni still connect ad infinitum. In this instance, guiding through job interviews with Isabel (House Manager and Detox Technician) and Teri. In a group text with "mom": I'm glad I spoke to Teri. Between you and her I'm getting better advice than anyone has (given) for this first interview. She gets me. She understands I don't know anything. And she helps me with basic stuff without sounding partonizing or judgemental. Like she would a child of hers. I love her.