Testimonials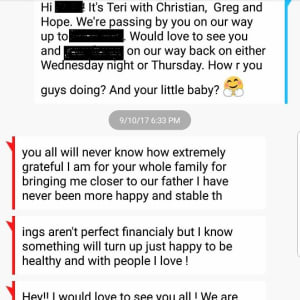 Clean After 4 Years Iv Heroin
Got to stop in for hugs at a McDonalds on a road trip passing through hometown of "4 years Heroin". As of today, 10 months sober and counting: Hey! I would love to see you all! We are doing good. I've just been looking for work and spending time with the family. I have been sober, thank the Lord. You all will never know how extremely grateful I am for your whole family For bringing me closer to our father. I have never been more happy and stable. Things aren't perfect financially, but I know something will turn up. Just happy to be healthy and with people I love!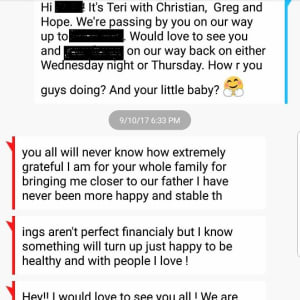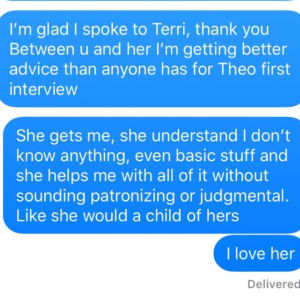 Sober From Heroin Barbiturates Job Hunt
Once completed, alumni still connect ad infinitum. In this instance, guiding through job interviews with Isabel (House Manager and Detox Technician) and Teri. In a group text with "mom": I'm glad I spoke to Teri. Between you and her I'm getting better advice than anyone has (given) for this first interview. She gets me. She understands I don't know anything. And she helps me with basic stuff without sounding partonizing or judgemental. Like she would a child of hers. I love her.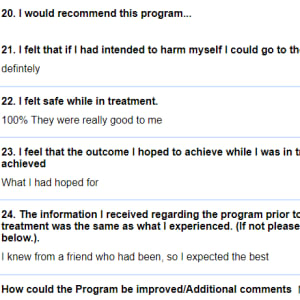 Suicidal Ideation Alcohol Benzos Heroin Meth
I would recommend this program. Excellent! I felt that if I had intended to harm myself I could go to the staff for help. Defintely. I felt safe while in treatment. 100% They were really good to me. I feel that the outcome I hoped to achieve while I was in treatment was achieved. What I had hoped for. The information I received regarding the program prior to entering treatment was the same as what I experienced. I knew from a friend who had been, so I expected the best